Dippy on Tour: a natural history adventure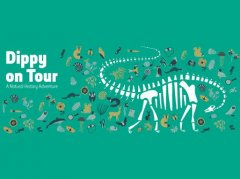 Date: Tuesday, 22 January 2019 - Monday, 6 May 2019
Time: 10:00AM - 5:00PM
Type: Event
Description
Dippy, the Natural History Museum's iconic Diplodocus dinosaur skeleton, is coming to Glasgow!
As part of a road trip across the UK, Dippy is venturing out of London for the first time since 1905. He will visit Kelvingrove Art Gallery and Museum from 22 January – 6 May 2019. And he's on a mission - to inspire five million natural history adventures, encouraging families to explore the incredible natural history collections and biodiversity in Glasgow.
More information can be found here. Admission to the exibition is free.
As part of the exhibition there will be a "Societies' Day" at the Kelvingrove Museum on Saturday 16 February. The Geological Society of Glasgow and the Strathclyde Geoconservation Group will have stalls at this event, which is aimed at increasing awareness of groups involved in earth science outreach. If you are interested in helping out on the day then please see any Council member.
Additional Information

Kelvingrove Art Gallery and Museum
Argyle Street
Glasgow
G3 8AG