Introduction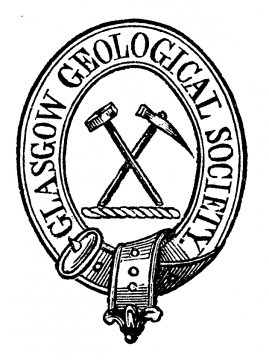 The original logo of the society, which appeared on the cover of the first volume of the Transactions of Glasgow Geological Society, published in 1860
Over the years since the Geological Society of Glasgow was founded in 1858, a wealth of archive material has been amassed. The contents of the archive include the following: minutes of meetings of the society; abstracts of lectures; full texts of certain lectures; research papers; records of excursions to geological sites; photographs; minutes of Council meetings; and, since 2004, minutes of the meetings of the Strathclyde Geoconservation Group (known as Strathclyde RIGS Group until 2010) as well as copies of publications produced by its members.
The term Proceedings of the Geological Society of Glasgow refers to the records of the society's meetings and excursions. Between 1858 and 1963, the Proceedings were published as part of the Transactions of the Geological Society of Glasgow, along with a variety of research papers. The Transactions ceased publication in 1963, when they merged with the Transactions of the Edinburgh Geological Society to form the Scottish Journal of Geology, which was first published in 1965. Since 1964, the Proceedings have been published separately and they continue to be archived.
The Transactions are available online in the Lyell Collection. Extracts from the Transactions can be viewed without logging in to the Lyell Collection website. However, it is necessary to log in to view the complete texts. Society members can obtain a user name and password that will allow them to log in; details of how to do this can be found here.
The society's archive is in the care of the University of Glasgow Archive Services in their building at 13 Thurso Street, Glasgow G11 6PE. It is possible to make an appointment with Archive Services to gain access to items in the archive; more information is available here.
Lecture/Excursion/Event Search
Archive