Bookshop
The society runs a bookshop which stocks a selection of geology books and which is open after the society's indoor meetings to allow members to browse and make purchases. The following books can be ordered be purchased at the society's indoor meetings, or online from the society.
Field Guides
An Excursion Guide to the Moine: Geology of the Northern Highlands of Scotland
Rob Strachan, Ian Alsop, Clark Friend, Suzanne Miller
National Museums Scotland
ISBN 978-1-905267-33-0 Paperback Published 2010
Retail Price £17.99 Members' Price £14.40​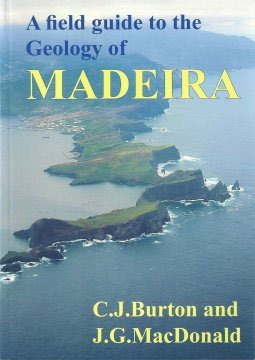 A Field Guide to the Geology of Madeira
C.J. Burton, J.G. MacDonald
Geological Society of Glasgow
ISBN 978-0-902892-11-8 Paperback Published 2008
Retail Price £10.00 Members' Price £8.00
You can find out more about this book
here
.
Supplement to Madeira guide
Since the publication of this guide in 2008, the need has arisen to update some of the information contained in it. The great storm of February 2010 changed some of the topography, including the area of Porto da Cruz, and in the same year a new geological map of the island was published along with a revision of the stratigraphy. These and other alterations and additions are reflected in a supplement to the guide, which was up-to-date as of May 2018. (This supplement replaces an earlier supplement that was published in June 2016.) The new supplement includes a revision of the stratigraphy, an additional excursion itinerary and updated information about other excursions. The supplement can be viewed and downloaded
here
.
Fife and Angus Geology (3rd edition)
A.R. MacGregor
Pentland Press
ISBN 978-1-85821-353-8 Paperback Published 1996
Retail Price £12.50 Members' Price £9.50
This book is now out of print, but the bookshop still has some copies in stock.
If you would like to purchase any of the above books, please email the society at:
books@gsocg.org
.
Out-of-print Titles
The following two books, which were published by the society, are now out of print and no longer available from the society. However, you may be able to find used copies for sale on the internet.
An Excursion Guide to the Geology of the Isle of Skye
B.R. Bell, J.W. Harris
Geological Society of Glasgow
ISBN 0-902892-08-8 Paperback Published 1986
Macgregor's Excursion Guide to the Geology of Arran (3rd edition)
M. Macgregor, J.G. MacDonald, A. Herriot
Geological Society of Glasgow
ISBN 0-902892-07-X Paperback Published 1983
Lecture/Excursion/Event Search
Bookshop