A cairn and interpretive panel are now in place at the site where the fossil of Akmonistion zangerli was found in 1981 in the Carboniferous shales at Manse Burn, Bearsden.
The panel was unveiled by Dr Neil Clark, Curator of Palaeontology at the Hunterian Museum, where the well-preserved fossil is displayed.
With support from Tarmac, operators of the nearby Douglasmuir quarry, a community group has worked to provide interpretation at the site which is in the Baljaffray area. The cairn and panel follow previous work to place the words 'Bearsden Shark' on railings by the Manse Burn.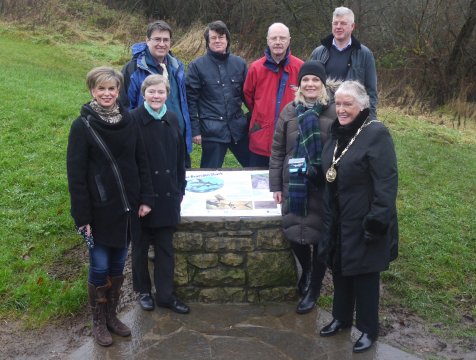 In the photograph are, l to r, Amanda Stewart (shark group), Nan Lawless (shark group), Dr Neil Clark (Curator of Palaeontology at the Hunterian), Andrew Kent (designer from Bedrock Design Glasgow), Neil Buchanan (shark group), Stephen Cowan (from Tarmac), Debbie Macrae (shark group) and East Dunbartonshire Provost Una Walker. Missing from the photo was East Dunbartonshire and Mugdock Country Park Ranger Alan McBride, also a member of the shark group.
See the Geological Conservation Review site account here. The Bearsden Shark features on the Scottish Fossils page of this site.
Photos: Debbie Macrae