A broader view of the Moine Thrust (lecture)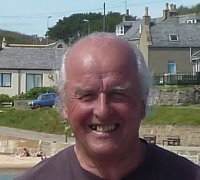 Date: Thursday, 10 January 2019
Time: 7:30PM - 9:30PM
Type: Lecture
Description
Dr Jim Morrison (Retiring Presidential Address)
The Moine Thrust (MT) marks the edge of the rocks – mainly schists of the Moine Supergroup - which were carried WNW over the Foreland of mainly Lewisian gneisses during the Scandian orogeny (440-420 Ma) when Scandia was pushed towards the eastern margin of Laurentia, probably by more than 100km.
There are other contemporaneous thrusts and faults to the E and W of the MT and to the E lies the Great Glen Fault (GGF) which plays a role in the overall geometry of the MT and the associated Northern Highland Terrane. Rocks now to the E of the GGF – including the modern Grampian Terrane – lay some distance to the SW at the time of thrusting.
Most interest in the MT has been in the mainland from Sleat in Skye to the N coast of Sutherland near Tongue and Faraid Head, but the MT also lies undersea to the S, where it passes to the W of Mull and eventually intersects the GGF or one of its splays. Beyond Faraid Head it continues towards Shetland, where it probably intersects the Walls Boundary Fault (northern extension of the GGF).
The talk will cover aspects of the mainland MT, and go on to consider what is known about the undersea sections.
Jim was born and brought up in Aberdeen and graduated in Biochemistry from Aberdeen University in 1964, then moved to GU, where he did a PhD under Hamish Keir and Prof J N Davidson on DNA replication in herpesvirus. 'JND' was a friend of 'TNG', indeed the two families holidayed together. After a spell as research fellow at Stanford University with Nobel Laureate Arthur Kornberg, he spent the rest of his career at GU, teaching Science, Medical and Vet students and 4 continuing his herpesvirus research. Latterly, he became interested in all viruses and especially their evolution, because from the mid-198s, the DNA and RNA sequences of all kinds of viruses were determined and so the genetic relationships between them could be evaluated.
He has always been interested in rocks of hill and shore in NE Scotland and in the early 1980s Graham Durant, then at the Hunterian, introduced him to the GSG, where he made steady progress with the help of 'real' geologists – Brian Bluck, Chris Burton, Jim MacDonald, Geoff Tanner, etc. and people at BGS Edinburgh, especially the Late John Mendum. Jim's intitial interest was the Highland Boundary fault, but this soon extended to all Highland geology and especially the Great Glen Fault and the Moine Thrust. Starting sea kayaking in 2004 allowed him to explore some of the less accessible areas of Mull and Shetland. His interest in virus evolution has parallels with the notions of the evolution of geological structures in the Highlands, especially in the period 1200-400Ma.
Additional Information
Lecture Theatre, Gregory Building