From March 14 until June 15, the Hunterian Art Gallery will be hosting an exhibition celebrating Scottish gold. The exhibition examines the natural history of gold, its occurrence in Scotland during prehistoric and medieval times, the two Scottish gold rushes, and also the more recent commercial and leisure exploitation of gold in the rolling hills of the Southern Uplands, the Trossachs, and the Northern Highlands.
Rainbow over the gold-bearing stream of Crom Allt, Tyndrum (photo: N. Clark)
A book accompanying the exhibition has been written by Dr Neil Clark, Curator of Palaeontology at the Hunterian Museum, who is a member of the society. Entitled Scottish Gold: Fruit of the Nation, it is available at the exhibition or via Amazon.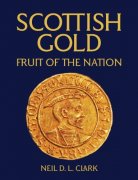 Members of the society will be able to visit the exhibition for 50% of full admission with their membership cards. The admission charges are: full – £5; concession – £3.
More information about the exhibition can be found on Glasgow University website's Hunterian page.